Do You Want to Learn How to Speak 'Cat'? Cat Behaviour Courses from iCatCare

emily

June 5, 2016

cats
•
pet business
Perhaps you're fascinated by how and why your cat does the things she does.
Or maybe you work with cats, either as a vet or vet nurse, or in a non-veterinary capacity doing something like pet-sitting or working at a cattery or rescue centre, and are looking to boost your knowledge of cat behaviour.
The wonderful feline welfare charity International Cat Care (iCatCare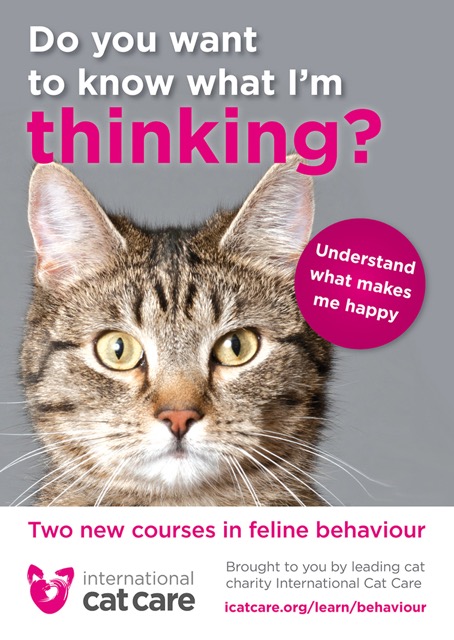 ) and its veterinary division the International Society of Feline Medicine (ISFM) have recently announced two exciting new cat behaviour courses, so whichever description fits you, you'll find the perfect course.
Both courses provide a comprehensive understanding of feline behaviour, covering topics like development, emotional complexity, and communication, with one aimed at cat owners and those working with cats on a non-veterinary level, and the other aimed at veterinary professionals.
iCatCare  is an amazing charity and one that I'm proud to support; it works tirelessly to improve the health and well-being of our feline friends by providing practical welfare support, advice and training for cat owners and people who work with cats, and cutting edge veterinary support and information to professionals worldwide.
iCatCare Certificate in Feline Behaviour
This is the course for cat owners and people who work with cats on a non-veterinary level, and aims to provide the knowledge and skills needed to form deeper relationships with cats in your care, giving them the best environment possible, and making sure you meet their behavioural needs. It also looks at why cats can develop problems behaviours, how to prevent these behaviours, and what to do to deal with these behaviours if you come across them.
iCatCare Advanced Certificate in Feline Behaviour
This course is aimed at veterinary professionals (vets and vet nurses/technicians), and aims to help you reduce feline stress levels during visits, use behaviour as part of your overall welfare assessments, and provide a greater understanding of feline behaviour that lets you educate your clients and help them prevent and/or resolve problem behaviours..
Dr Sarah Ellis, iCatCare's Feline Behaviour Specialist, said: "We are very excited to be able to offer these courses, which have been written by a multi-disciplinary team of recognised experts. Cats are so unique in their behaviour and the more we understand them, the better we can care for them".
Interested in finding out more? Both cat behaviour courses are online-based and modular, and are completed over a two year period. The courses commence this autumn, although expressions of interest can be made now at: http://icatcare.org/learn/behaviour